Tinker
Tinker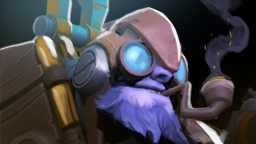 Boush, the Tinker, is a ranged intelligence hero who leverages great mobility and blistering nukes to push lanes and gank his enemies. Tinker's ultimate Rearm resets the cooldown on his items and abilities, allowing him to deal prodigious damage with his Laser, Heat-Seeking Missiles and with items such as Dagon. By refreshing Boots of Travel, Rearm also grants Tinker vast mobility, enabling him to pressure multiple lanes with his March of the Machines. Tinker's mana costs are very high, however, so to remain a global threat he must regularly regenerate at his fountain. His mana dependency and modest stat gain make quickly acquiring Boots of travel a key to success. When played with the right items, good mana management and mechanical skill, there are few heroes Tinker will not evaporate.

Boush, the Tinker
Boush the Tinker's diminutive race is known for its intelligence, its cunning, and its prickly relationship with magic. As a matter of pride, they survive by their wits, and use only those powers of nature that may be unlocked through rational methodologies. Even this forbearance has led to a great deal of trouble, as Boush can attest. Once a key investigator of natural law, Boush the Tinker led a vast intellectual investigation into the workings of nature, founding a subterranean laboratory in the rumored, mist-wreathed wastes of the Violet Plateau. While scorning mages for the dangers they visit upon the world, Boush and his Tinker associates haughtily wrenched open a portal to some realm beyond comprehension and ushered in some nightmares of their own. A black mist rose from the cavernous interior of the Violet Plateau, shrouding it in permanent darkness from which sounds of horror perpetually emanate. Boush escaped with only his wits and the contraptions he carried, the sole Tinker to survive the Violet Plateau Incident.
Abilities
[
edit
]

Fires an intense energy beam, dealing damage and blinding the target, causing it to miss all physical attacks.
Hero Duration
:
3/3.5/4/4.5

Causes Laser to refract between all visible enemy heroes within range.
Blind effect persists if debuff was placed before spell immunity and when not dispelled.
Blocked fully only when primary target.
Boush perfected this rock cutting laser in his subterranean laboratory, never considering its combat utility.
Notes:

Plays a sound effect during the cast time, which is audible to everyone.
The laser first applies the damage, then the debuff.
When upgraded with Aghanim's Scepter, the Laser bounces to the closest enemy hero within a 400 radius of its current target.

The bounces happen instantly, with no time interval between them. Has no bounce limit.
Can only bounce to heroes (including clones), illusions and creep-heroes. When the primary target is a regular creep/summon, it still bounces to valid targets within range.
Does not bounce on invisible units or units in the Fog of War.
Can never hit the same unit twice per cast.

Launches rockets at the nearest visible enemy heroes within 2500 range.
Damage per Rocket
:
125/200/275/350

18

Increases Heat-Seeking Missile target count.
Does not target spell immune units.
The last contraption Boush was able to save was a retrofitted rocket launcher with a homing mechanism.
Notes:

Heat-Seeking Missile interrupts Tinker's channeling spells upon cast.
The missiles travel at a speed of 700.
When all missiles hit, they collectively can deal up to 250/400/550/700 ( 500/800/1100/1400) damage (before reductions).
When no valid targets were in range, the rockets are released and fall on the ground, showing that the cast failed.
When choosing the level 25 talent, the rockets also inflict a short stun on enemies they hit.

The rockets first apply their damage, then the debuff.
Enlists an army of robotic minions to destroy enemy units in an area around Tinker.
Cast Animation
:
0.53
+
0.63
Robot Collision Radius
:
50
Robot Explosion Radius
:
150

35
Robots do not collide with spell immune enemies.
Even though the laboratory has since been sealed off, the ability to radio in robotic drones is still in working order.
Notes:

The robots move at a speed of 400 and move a distance up to 1800 forwards, taking 4.5 seconds to travel the full distance.
The 900 spawn radius is centered and fixed around the cast point, not on Tinker's location.
The spawn area is a line with 1800 length, which is centered 900 range behind the targeted cast point.
So the overall affected area is rather square-shaped, with 1800 side lengths.
Robots spawn in 0.0417 second intervals at a random point of the line, which is 24 robots per second, for a total of 144 ( 204) robots.
Robots do not spawn at points of the spawning line which are outside of the map boundaries.
When an enemy comes within 50 radius of a robot, or the robot reaches max distance, it deals damage in 150 radius around itself and then disappears.
If a lone enemy stands still within the area for the full duration, they would take an average of 189.44/284.16/378.88/473.6 damage (before reductions).

Would take an average of 284.16/378.88/473.6/568.32 damage when the damage increasing talent is chosen.
Would take an average of 268.37333333333/402.56/536.74666666667/670.93333333333 damage when the duration increasing talent is chosen.
Would take an average of 402.56/536.74666666667/670.93333333333/805.12 damage when both talents are chosen.
If each explosion could hit a single target, it would deal up to 2304/3456/4608/5760 damage (before reductions).

Would deal up to 3456/4608/5760/6912 damage when the damage increasing talent is chosen.
Would deal up to 3264/4896/6528/8160 damage when the duration increasing talent is chosen.
Would deal up to 4896/6528/8160/9792 damage when both talents are chosen.
The robots do not explode and deal area damage when colliding with couriers.
The sound effect upon cast is not audible by enemies. The marching sounds are.

Notes:

The following items cannot be rearmed:

Aeon Disk, Arcane Boots, Black King Bar, Hand of Midas, Helm of the Dominator, Linken's Sphere, Meteor Hammer, Necronomicon, Pipe of Insight, Refresher Orb, and Refresher Shard.
Does not refresh the cooldowns of neutral items.
Visually resets the cooldown of Tranquil Boots, but does not skip the broken state.
Does not reset charges on charge-based items ( Bottle, Drum of Endurance).
Only refreshes items in Tinker's inventory and backpack. Items in stash, in other units' (e.g. couriers) inventories or dropped items are unaffected.
Only refreshes items owned by Tinker. Allied items in his inventory or backpack are not refreshed.
When the channeling is interrupted, nothing is rearmed.
Rearm's sound gets shorter with each level to match the decreasing channel time.
The Rearm modifier has only informational purpose.
Talents
[
edit
]
Recent Changes
[
edit
]
Recommended items
[
edit
]
Starting items:
Early game:
Boots of Speed are basic mobility requirements for any hero. Getting them early on Tinker allows him to more easily position himself for casting his spells.
Null Talisman provides Tinker with more damage, which helps with last-hitting. As such, it is advised to start with a Null Talisman when playing mid, as the extra damage can make a huge difference against certain lane opponents.
Bottle is essential for a mid Tinker, as it provides HP and mana regen critical for allowing him to stay in-lane to farm. Bottle remains vital on Tinker throughout the game, as it extends his mana pool when teleporting forward to cast spells and speeds up healing in fountain, so consider dropping it in the Stash instead of selling it later.
Mid game:
Late game:
Situational items:
Gameplay
[
edit
]
| | |
| --- | --- |
| Roles: | Carry Nuker Pusher |
| Complexity: | ★★☆ |
| Playstyle: | Compared to magic, the study of natural law was much more consistent, but no less dangerous. From their subterranean laboratory, Boush and his colleagues opened a portal to a distant world, a portal through which untold horrors began to pass into this realm. Cutting his way to freedom with a Laser, Boush surfaced as the only Tinker to survive the Violet Plateau incident. Equipped with contraptions befitting a maniacal researcher, Boush launches Heat-Seeking Missiles from his shoulders, and radios in armies of robotic drones to disassemble his enemies. Unhindered by the delays of magic, the Tinker Rearms his tools on the fly, wasting no time in demolishing anything that stands in his way. |
History
[
edit
]
Equipment
[
edit
]
The Tinker's voice actor, Harry "Hal" Robins, also voiced Dr. Isaac Kleiner in Half-Life 2 and the scientists of Black Mesa in Half-Life. Many of Tinker's voice lines reference characters and events from the Half-Life universe. In addition, the name "Violet Plateau" is quite similar to "Black Mesa", and the events described in Tinker's backstory are remarkably similar to the events of Half-Life.

Tinker's responses upon killing Broodmother's Spiderlings Link▶️ "Lamarr, is that you?" and Link▶️ "Lamarr?!" are a reference to Dr. Kleiner's "debeaked" pet headcrab, Hedy Lamarr.
Many of Tinker's lines while using Rearm come directly from Half-Life 2 including Link▶️ "The massless field flux should self-limit" and Link▶️ "I've clamped the manifold parameters to… CY base and LG orbifold… Hilbert inclusive".
Tinker's death line Link▶️ "It's probably not a problem, probably" is also a reference to Dr. Kleiner, who says it in the beginning of Half Life's second chapter right before the equipment he and his team are working on suffers a catastrophical malfunction and causes the alien invasion of Black Mesa.

The Tinker's alternate/fun name in DotA was "X!!", the name of a professional DotA player.
Tinker's line Link▶️ "I tink! Therefore I am!" is a reference to the philosophical statement "I think, therefore I am." proposed by René Descartes. Its original Latin words are "Cogito ergo sum."
Tinker's line Link▶️ "Tinker, failure…Soldier…Fie…" is a reference to the 1974 spy novel Tinker, Tailor, Soldier, Spy by British author John le Carré about George Smiley (who was played by Gary Oldman in the 2011 film adaptation).
Tinker's death line Link▶️ "The machine, stops." is a reference to the short story of the same name by E.M. Forster.
Tinker's line "Blinded you, with Science!" is a reference to the song She Blinded Me with Science by Thomas Dolby.
Gallery
[
edit
]
References
[
edit
]