The International 2015/All-Stars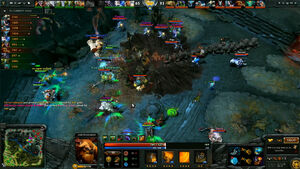 In the All-Star match of 2015, two teams, Team ChuaN and Team n0tail, faced each other in a best of one, playing a 10 vs 10 match (All Pick). Five players of each team were decided by Compendium owners, who were able to vote for 5 professional players for each team. The captains of each team (ChuaN and n0tail) then chose 5 random people from the audience to join the team, completing a 10-man team.
Just like in the previous years, there was no secrecy between the teams, mainly making fun picks. The match was not played in the booths, but was instead on the center of the main starge, on 2 rows of tables facing each other, meaning both teams could hear each other, the casters and the crowd.
The 10 vs 10 game mode was later made available to the public as a custom game mode.
*The last audience member on Team Chuan turned out to be Dendi, who was dressed in a Pudge suit.
Play by Play
Team ChuaN pulled ahead in the early game with a comfortable kill lead, with Dendi's Pudge eventually stacking up to 5714 HP with Flesh Heap. However, the mid game saw Team n0tail swing the balance back in their favor, with SumaiL leading the charge on his Tiny.
After taking a decisive teamfight, Team ChuaN headed down mid to end the game once and for all. But as the Radiant Ancient neared destruction, it was shielded by Omniknight's Guardian Angel. With these few precious seconds, iceiceice made liberal use of Walrus Kick, pushing away the remaining members of Team ChuaN, sometimes into the fountain. As the Ancient dropped to under 5% health, Hao's Queen of Pain jumped in to finish the job, only to be kicked into the trees and finished off by Team n0tail.
With Hao dead, Team ChuaN had been effectively teamwiped. The living players on Team n0tail rushed towards the Dire base, while Nature's Prophet pushed in the top lane with a Divine Rapier. Uncoordinated and respawning one by one, team ChuaN was picked apart by the larger Radiant force, allowing SumaiL and his teammates to rush the tier four towers, and destroy the Ancient.