Talents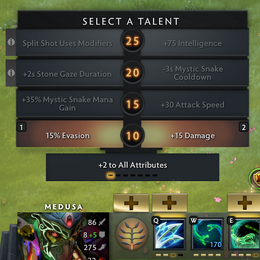 Talents are traits unique to each hero. They are chosen every 5th level starting at level 10, offering a permanent choice between two distinct bonuses. These include increases to hero attributes and boosts to hero abilities. Once a talent is chosen, its counterpart is discarded and the selected bonus is gained for the remainder of the match. A special sound (
▶️) is played when you have reached the level required to choose a talent.
Choosing a talent does not require you to learn the previous talent, meaning that talents can be skipped. At level 30, all talents are automatically learned.
A table of heroes sorted by bonus gained can be viewed here.
Mechanics
Stats
Attack
Abilities
Status effects
World
Gameplay
Units