Relics
This article is about the stat counter. For the gameplay item, see
Sacred Relic
.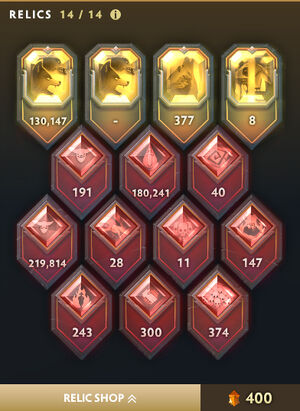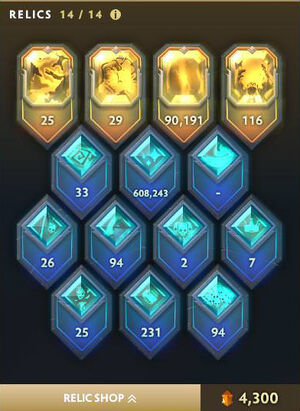 Relics are counters that track a hero's actions and statistics in-game. Each hero has fourteen relics divided by category and rarity. Relics are only available to Dota Plus subscribers, and must be purchased with shards.
Obtaining Relics
[
edit
]
Relics can only be purchased with shards.
Each hero has ten common Relics and four rare Relics.
If a duplicate Relic is received, it will be recycled for 400 shards (common) or 5000 shards (rare).
Item
Cost
1 Random Relic
(Common or Rare)

800

shards
1 Common Relic

5,000

shards
1 Rare Relic

10,000

shards
All Common Relics

952,000

shards
All Rare Relics

4,760,000

shards
General information
[
edit
]
The relic panel is found on each hero's profile.
Relics update and display your statistical milestones as you play.
Multiple relics will track simultaneously.
A breakdown of each relic's progress is displayed after each game.
Relics do not track in Turbo Mode.

Designs
[
edit
]