Phoenix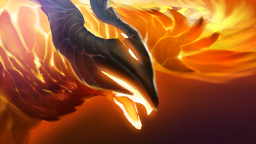 Phoenix is a flexible and unique ranged strength hero with a plethora of powerful abilities that inflict heavy damage over time on its opponents at the cost of its own health. It can be played as either a support, initiator, or semi-carry. Icarus Dive can serve as either a harassment tool, an initiating maneuver, or an escape mechanism, all the while slowing and damaging opponents in its path, while its Fire Spirits burn and cripple the opponent's attack speed, making it a potent anti-carry. Sun Ray projects a powerful beam in front of Phoenix that burns enemies for a percentage of their maximum health while sacrificing some of its own health; and, if it ever sees fit, it can end its current life to turn into a searing Supernova. Surviving this stage of its life cycle allows Phoenix to reemerge in full strength, stunning all nearby opponents and with all non-ultimate and non-item cooldowns refreshed, ready to inflict havoc on its foes once again.
Bio
Phoenix
Alone across an untouched darkness gleamed the Keeper's first sun, a singular point of conscious light fated to spread warmth into the empty void. Through aeons beyond count this blinding beacon set to coalescing its incalculable energy before bursting forth the cataclysmic flare of supernova. From this inferno raced new beacons, star progeny identical to its parent, who journeyed an unlit ocean and settled in constellatory array. In time, they too would be made to propagate through supernova flame. So would this dazzling cycle of birth and rebirth repeat until all skies hewn of Titan toil deigned to twinkle and shine. By this ageless crucible the star that mortals would come to call Phoenix collapsed into being, and like its ancestors was thrust into an endless cosmos to find a place among its stellar brethren. Yet curiosity toward that which the dimming elders comfort in the darkness consumed the fledgling, and so over long cycles it inquired and studied. It learned that among worlds both whole and broken would soon stir a nexus of remarkable variety locked in an enduring conflict of cosmic consequence, a plane which would find itself in need of more influence than a dying sun's distant rays could provide. Thus this infant son of suns took terrestrial form, eagerly travelling to shine its warmth upon those who may need it most, and perhaps seize upon its solar destiny.
Abilities
Talents
Hero Talents

+1.5% Max Health Sun Ray Damage
25
+3 Supernova Hit Count
Sun Ray During Supernova
20
+1100 Icarus Dive Cast Range
+500 Health
15
+25 Fire Spirits DPS
+6% Spell Amplification
10
+24% Icarus Dive Slow
Notes:
The health talent increases maximum health capacity, and keeps the current health percentage.
Recent Changes
Increased Sun Ray mana cost from 100 on each level to 100/110/120/130.
Supernova

Rescaled mana cost from 200 on each level to 150/200/250.
Increased cooldown from 110 to 120.

Added Aghanim's Shard upgrade for Phoenix:
[U]

Launch Fire Spirit is now a charge-based ability by default. Without Aghanim's Shard, it gains its charges by casting Fire Spirits. With Aghanim's Shard, it recharges them on its own.
Level 10 right talent: +18% Icarus Dive movement speed slow increased to +24%.
Increased Fire Spirits mana cost from 80/90/100/110 to 120 on each level.
Rescaled Supernova attacks to destroy from 5/8/11 to 6/8/10.
Talents:
Level 10 right talent: +14% Icarus Dive movement speed slow increased to +18%.
Level 15 left talent: +400 health increased to +500.
Recommended items
Starting items:
Early game:
Tranquil Boots gives health regeneration to offset the health costs of Phoenix's abilities, especially when firing Sun Ray. The high movement speed bonus allows Phoenix to travel to the right lanes or teamfights as quickly as possible.
Magic Stick provides burst health and mana so Phoenix can stay alive and use abilities.
Urn of Shadows restores health followed hero deaths, or perhaps adds more DPS to help with ganks. The mana regeneration also sustains abilities.
Mid game:
Late game:
Shiva's Guard has attack speed slow aura that aids in the Phoenix Sun's survivability. Use Arctic Blast right before Supernova to slow enemy movement speed, keeping them in range of the Sun. Since Arctic Blast takes more than 2 seconds to build up to maximum radius, activate it a little while before Icarus Dive to cover as much area as possible during the dive.
Lotus Orb increases Phoenix's survivability by giving it armor and regeneration. Its active ability dispels silences and other debuffs, and may deter enemy heroes from placing targeted abilities on Phoenix for fear of reflection.
Situational items:
Gameplay
| | |
| --- | --- |
| Roles: | Support Nuker Initiator Escape Disabler |
| Complexity: | ★★☆ |
| Playstyle: | Out of the deep void burst forth infinite stars, among them the cosmic progeny known to mortals as Phoenix. With stellar flame emanating from its terrestrial form, the Phoenix dives the battlefield in an arc, setting ablaze all who pass beneath its wings. Within its ever-collapsing core sprang short-lived Fire Spirits, paroxysms of conscious light that burned with debilitating flame. From afar the firebird beams its Sun Ray, scorching foes, yet nurturing allies. By its own celestial timing, the son of suns ends its current life in a Supernova, radiating intense heat until the mass explodes, restoring Phoenix to its form through the glory of rebirth. |
Audio
History
Equipment
Trivia
Phoenix's name in DotA was Icarus. It was removed during its port to Dota 2 for unspecified reasons. However, Icarus Dive still makes use of it.
An easter egg boss fight versus Phoenix was added to the 6.69 DotA map to hint at its upcoming release in 6.70.
Gallery