Night Stalker
Night Stalker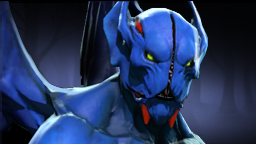 Balanar, the Night Stalker, is a melee strength hero, renowned for being a very potent ganker once night falls.
Unlike most other heroes in the game, Night Stalker's strength greatly fluctuates depending on the time of day. He is relatively innocuous during the day, with one of his abilities being completely disabled then while two others are heavily weakened in potency, but he quickly becomes a force to be reckoned with once the moon rises. He has a slow in Void, which allows him to hound and nuke down lone enemies who are unfortunate enough to encounter him; the slow effect is considerably more debilitating at night where a mini stun is also applied. He also has the ability to silence his foes with Crippling Fear, which drastically increases in duration at night, preventing spellcasters and even carries from retaliating against him while he lashes at them with relative impunity. His passive, Hunter In the Night, greatly boosts his movement speed and attack speed at night, allowing him to easily move around the map, to pursue and tear apart his prey. Finally, his ultimate, Dark Ascension, summons instant nighttime and hampers enemy night vision, making even the strongest enemy heroes sitting ducks for the Night Stalker and his allies. A terror in darkness, Night Stalker is the embodiment of heroes' nightmares, and one of the last things they will ever wish to encounter alone at night.
Balanar, the Night Stalker
Of the Night Stalker, there is no history, only stories. There are ancient tales woven into the lore of every race and every culture, of an impossible time before sunlight and daytime, when night reigned alone and the world was covered with the creatures of darkness--creatures like Balanar the Night Stalker. It is said that on the dawn of the First Day, all the night creatures perished. All, that is, save one. Evil's embodiment, Night Stalker delights in his malevolence. He created the primal role of the Night Terror, the Boogeyman, and as long as there have been younglings, his is the specter summoned to terrify them. This is a role he relishes; nor are these empty theatrics. He does indeed stalk the unwary, the defenseless, those who have strayed beyond the lighted paths or denied the warnings of their communities. Night Stalker serves as living proof that every child's worst nightmare....is true.
Abilities
[
edit
]

Ability
Target Unit
(

No Target
)
Affects
Enemies
Creates a damaging void that slows an enemy unit and deals damage. Void also mini-stuns, interrupting channeling abilities. The slowing effect lasts longer at night.
Night Slow Duration
:
2.5/3/3.5/4

Causes Void to be an AoE ability. Increases the ministun duration.
Slow persists if debuff was placed before spell immunity and when not dispelled.
Not blocked when upgraded with Aghanim's Scepter.
Balanar creates a vortex of infinite night, tearing opponents violently into the eternal darkness that once was.
Notes:

Also uses the night values during the night from Eclipse.
Void first applies the slow debuff, then the damage, then the stun debuff.

Night Stalker horrifies all nearby enemies, causing them to become silenced while near him. The effect lasts longer at night.
Aura Linger Duration
:
0.5

50
Debuff persists if it was placed before spell immunity.
A vision of the twisted maw of Balanar etches itself into the minds of the poor souls unlucky enough to cross his path.
Notes:

The silence is provided by an aura, its debuff lingers for 0.5 seconds.
The aura's duration does not update when it turns day or night while the buff is on.
Also uses the night values during the night from Eclipse.
Night Stalker is in his element at night, attacking and moving with great swiftness.
Notes:

Also works during the night from Eclipse.


Night Stalker smothers the sun and summons instant darkness, so that he might use his powers at their fullest. Nightstalker gains flight and bonus damage during this time. Has unobstructed vision.
Notes:

Dark Ascension has a lower priority than the daytime caused by Supernova.

During it, Night Stalker still flies, has the damage bonus and unobstructed vision, but the vision is limited to his default daytime vision.
Has a cast backswing of 0.5 seconds when cast during the night.
Talents
[
edit
]
Notes:
The lifesteal talent stacks additively with other sources of lifesteal.
This attack damage talent is added as raw attack damage, so it does not benefit illusions, and is not affected by most percentage-based damage increasing or reducing effects.
Recent Changes
[
edit
]
Level 10 left talent: +200 mana reduced to +150.
Level 10 right talent: +200 health reduced to +150.
Level 15 left talent: 25% lifesteal reduced to 20%
Level 15 right talent: +15 strength reduced to +12.
Level 20 left talent: +40 attack damage reduced to +35.
Level 20 right talent: +35 movement speed reduced to +30.
Level 25 left talent: -60s Dark Ascension cooldown reduced to -50s.
Level 25 right talent: +100 Hunter in the Night attack speed reduced to +80.
Recommended items
[
edit
]
Starting items:
Early game:
Mid game:
Late game:
Situational items:
Gameplay
[
edit
]
| | |
| --- | --- |
| Roles: | Carry Initiator Durable Disabler Nuker |
| Complexity: | ★☆☆ |
| Playstyle: | The beast of bedtime tales, Balanar is the primal terror that every child knows to fear. When night falls, Balanar goes on the hunt, moving and striking with devilish swiftness. He inflicts a debilitating Void, slowing and forcing his quarry to flee, arms withering and spells fizzling as their hearts are stricken with Crippling Fear. Even the lighted hours provide no safety from the Night Stalker. When needed, Balanar transforms through a Dark Ascension, spreads his wings under the blackened veil of night, and goes on the prowl for ever more victims. |
History
[
edit
]
Equipment
[
edit
]
Gallery
[
edit
]