Necrophos
Necrophos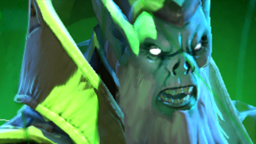 Rotund'jere, the Necrophos.
Lore:
Summoner hero. Can learn Raise Dead, Animate Dead, Grasp of the Damned, and Dark Portal.
Abilities
[
edit
]
Notes:

Brings the closest corpses within the radius back to life for a short duration.
Raised units cannot use any abilities and have a distinct red hue.
The corpses disappear once raised. When the raised unit expires or is killed, it does not leave a corpse.
Raised Deads take purge damage.

A Powerful undead creature grabs the target unit, disabling movement for 2.75 seconds and dealing damage.

Raises 2 dead units in an area to fight for Necrolyte for 30/45/60 seconds.
A portal opens that summons 4/6/8 powerful skeletal minions. Any enemy unit caught in the portal takes heavy damage.
Version history
[
edit
]