Lycan Wolf (Aghanim's Scepter)
Aghanim's Scepter (Pre 7.23)

Lycan Wolf (Aghanim's Scepter)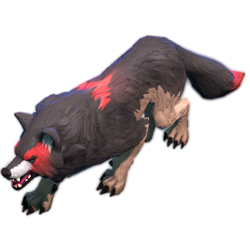 Summon
Abilities
[
edit
]
Gives 20% chance to cripple the target, causing 8 damage per second and lose 60 attack speed for 4 seconds.
Notes:

Available for level 3-4 wolves.
Deals damage in 1 second intervals, starting 1 second after proccing, resulting in 4 instances.
Multiple procs on the same target do not stack, but refresh the duration instead.
The proccing attack first applies the debuff, then its own damage.
Aghanim's Scepter upgrade notes:
Causes one of the three lanes' creep waves to include three Lycan Wolves, which behave like the lane creeps.
These wolves cannot be controlled by the player, and move at the same speed as the lane creeps.