Lone Druid
Lone Druid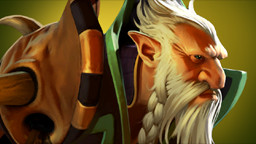 Sylla, the Lone Druid, is an adaptable and versatile ranged or melee agility hero, who summons a Spirit Bear, which has its own set of abilities and can equip items, as his ally. With the help of his Spirit Bear, he can carry, jungle, and push lanes effectively. Because of this, technically speaking, the Spirit Bear and Lone Druid himself are two available heroes at once. The Lone Druid himself is mostly played as the aura giver, while the Spirit Bear is played as the main damage dealer and tank. When he activates his abilities, it will not only buff him but the Spirit Bear as well. Lone Druid is versatile as he can change from a fast ranged warrior to a tough and mighty melee bear himself. Together, they can push lanes and towers quickly, farm neutrals in a cinch, and even take down Roshan by themselves if equipped with the right items. Due to the Spirit Bear not benefiting from attributes, it scales weakly into the later portions of the game, encouraging a midgame-oriented playstyle. However, should the need arise, its six extra usable item slots make Lone Druid a force to be reckoned with far into the lategame.
Abilities
[
edit
]
Spirit Bear
[
edit
]
Various mechanics
[
edit
]
Items
The cooldown of an item is bound to the item itself, and not to the unit holding the item. This means that giving the bear an item which already is on cooldown, is still on cooldown in its inventory, it does not get refreshed for the bear.

If the Spirit Bear has an item on cooldown, and then receives the same item again from Lone Druid but off cooldown, the newly received item is usable right away, despite the other one being still on cooldown. Using it puts it on cooldown and restarts the cooldown of the other one.
However, when an item went on cooldown due to a shared cooldown (e.g. Medallion of Courage going on cooldown because of Solar Crest getting used, or when having multiple Faerie Fire), it is not on cooldown when given to the bear, since the item itself was not used to proc the cooldown.

Gem of True Sight functions on the Spirit Bear as it does on couriers. This means it does not reveal invisible units when held by Spirit Bear. It is still dropped when Spirit Bear dies.
Spirit Bear cannot pick up the Aegis of the Immortal, but can attack (destroy) it.
Spirit Bear can pick up Cheese and consume it normally.
Divine Rapiers on the Spirit Bear work exactly like how they do for heroes. It can be purchased normally, and manually dropped from the inventory. It is muted when given to allies.

It is possible to swap an original Rapier between Lone Druid and the Spirit Bear, as it is not muted like how it is for allies. When picked up by an enemy, it turns into a free Rapier as usual.
The Spirit Bear can pick up free Rapiers. But just like heroes, it cannot manually drop a free Rapier from its inventory. This means free Rapiers cannot be swapped between Lone Druid and the Spirit Bear like an original Rapier.
Divine Rapiers carried by the Spirit Bear drop on its death.
Runes
Spirit Bear can activate any rune.

When activating the Illusion Rune, nothing happens, since only heroes can have illusions of themselves. All other runes work normally and fully for the Spirit Bear.
The Spirit Bear can also attack runes to deny them, like other units.
However, unlike for heroes, the rune's selection box does not get prioritized for the Spirit Bear, so that another unit standing on top of it can prevent the bear from picking it up.

Spirit Bear can bottle runes and use runes like heroes. Its Bottle also gets refilled when doing so.
The team chat message displays "Lone Druid", and not "Spirit Bear" when it uses runes.
Talents
[
edit
]
Recent Changes
[
edit
]
Recommended items
[
edit
]
Starting items:
Tango keeps Lone Druid in lane with health sustain.
Iron Branch gives Lone Druid cheap attributes.
Healing Salve can heal both Lone Druid and Spirit Bear.
Starting items (Bear):
Quelling Blade helps Spirit Bear score last hits with bonus damage against creeps.
Early game:
Boots of Speed for movement speed boost; sometimes, Lone Druid will not upgrade his boots in favor of spending gold on Spirit Bear.
Magic Stick can save Lone Druid with burst health and mana.
Early game (Bear):
Core items:
Core items (Bear):
Phase Boots increases Spirit Bear's movement speed to run down enemies and catch them with Entangling Claws.
Hand of Midas grants gold and experience boost to help Lone Druid and Spirit Bear scale faster.
Radiance greatly increases Spirit Bear's damage output, as its high health allows it to stay in the center of fights.
Situational items:
Situational items (Bear):
Gameplay
[
edit
]
| | |
| --- | --- |
| Roles: | Carry Pusher Jungler Durable |
| Complexity: | ★★★ |
| Playstyle: | Chosen by the forces of nature for his profound wisdom, Sylla is all that remains of his forgotten clan. The Lone Druid is followed by his Spirit Bear, a powerful companion that Entangles enemies, and Demolishes structures. The sound of a Savage Roar is often all that's needed to frighten foes from the forest. If not, then the pair forms a Spirit Link, increasing their speed as they roam the lands for intruders. Man or bear, the distinction is not always clear. When the situation calls for it, the Lone Druid takes his True Form, lets out an invigorating Battle Cry, and joins the mêlée to fight claw-to-claw alongside his bear. |
History
[
edit
]
Equipment
[
edit
]
Lone Druid's original name was "Syllabear", a pun on the name of Syl-lab-le, one of the developers who worked with Guinsoo. Before retiring, he created this hero.[1] It has now been shortened to "Sylla".
Lone Druid's design, including sickle and cauldrons, is based on depictions of Celtic druids.
Gallery
[
edit
]
References
[
edit
]