As part of the Unified Community Platform project, your wiki will be migrated to the new platform in the next few weeks. Read more here.
Guild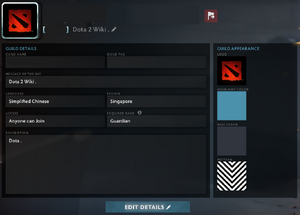 A guild is an organization of players that can chat and form parties together. Guilds can be created and accessed in-game from the Community tab. A player may be in up to four guilds at once. Guilds no longer exist in the Source 2 client.
Creation and management
[
edit
]
Every guild has a unique name, counting guilds that have already been disbanded. Guilds also have a tag/abbreviation and an image, which are shown in lobbies and scoreboards. A guild message can also be created; it is displayed on the guild's info page. The guild message and guild logo may be changed at any time. To invite a player to a guild, click on their name in your friends list, match summary screen, or chat channel, and select Invite to Guild. If an invited player is offline, they will receive the invitation the next time they open Dota 2. The founding player is automatically promoted to Guild Leader, and any invited players start out as Member. A guild is automatically disbanded when the last player leaves.
Guild activities
[
edit
]
A party that is not full may opt to open their party to the guild, and members of that guild may join any opened parties. On the dashboard, you have access to one chat channel for every guild that you are in. You can interact with other guild members (view profile, add friend, invite to party, trade, etc) through the member list. Guild members can see unprotected lobbies belonging to other guild members.
There can be multiple guild leaders who cannot demote nor remove each other.
Each rank in a guild grants special privileges:
Guild Leader
[
edit
]
Can demote Officer to Member
Can promote Member to Officer or Officer to Guild Leader
Can demote self to Officer
Can edit guild logo
Can remove players from guild
Has all abilities of lower ranks
Guild Officer
[
edit
]
Can edit guild message
Can view a list of pending invitations
Can demote self to Member
Can invite players to guild
Has all abilities of lower ranks
Can chat in guild channel
Can open a party to guild and join opened parties
Can leave guild
Guilds can hold up to maximum of 50 players.
Join Time Limit: after about 3 - 5 guild changes in short amount of time, you are prevented from joining guild for 30+ min
History
[
edit
]
Added support for forming and managing Guilds. Guild Leaders invite, kick, promote, and demote members. Officers can invite members. There's a guild message that can be edited, a logo specified, and a chat channel.
Added the ability to open a party to a guild, which allows members of a specified guild to freely join the party. Players can browse open guild parties that are available to them.
Open guild parties can now have a description.
Gallery
[
edit
]
See also
[
edit
]