As part of the Unified Community Platform project, your wiki will be migrated to the new platform in the next few weeks. Read more here.
Glowbat
Glowbat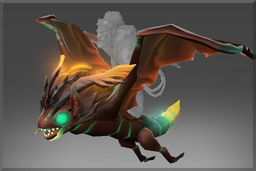 Wearable
---
Deep in the jungles of Jidi, evolution has taken a strange turn. The bioluminescent bats of the rainforest lure their prey with a comforting glow, only to incinerate their unsuspecting victims with a caustic venom.
Released
Origin
This item comes with the Dota Pit League Season 3 Bundle.
Customizations
[
edit
]
| Customization | Type | Preview |
| --- | --- | --- |
| Ambient | Effect | |
Gallery
[
edit
]
This item's internal name is Effulgent Firefly.