Fountain
Fountain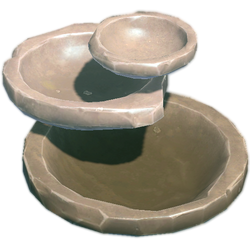 Building
Abilities
[
edit
]

Heals 5% HP and 6% mana per second.
Notes:

The aura's buff lingers for 3 seconds.
Can fully regenerate a unit's health within 20 seconds and mana within 16.67 seconds.
Due to the aura lingering for 3 seconds, Bottles keep on refilling even when already outside of its range, until the buff is gone.
True Sight
Adds the ability to see invisible units and wards to any allied vision within the structure's range.
Notes:

The True Sight is provided within the whole area, regardless of the buildings actual vision. It is fully unobstructed.
The True Sight is provided by an aura which affects enemies. Its debuff lingers for 0.5 seconds.