Fire
Fire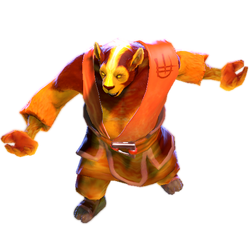 Ancient Creep-Hero
Abilities
[
edit
]
Notes:

Permanent Immolation is an aura. Its debuff lingers for 0.5 seconds.
Deals 12.5/25/37.5 damage in 0.5 second intervals, starting 0.5 seconds after the debuff is placed.
Can deal up to 412.5/925/1537.5 damage to a single unit (before reductions) if it stays within range for its whole duration.

Goes into a drunken brawler state, granting you a chance to avoid attacks and to deal critical damage. Brewmaster moves with a varying amount of movement speed, alternating between 20% slower and 40% faster. Lasts 5 seconds.
Movement Speed Bonus
:
40%
When Mangix won his title as the Brewmaster of the Order of Oyo, he also claimed his place in the mastery of inebriation.
Notes:

Given to Fire when holding Aghanim's Scepter, at the same level as the original Brewmaster.