Clockwerk
Clockwerk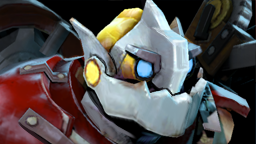 Rattletrap, the Clockwerk, is a melee strength hero known as being one of the most well-rounded initiator-gankers in the game. Rattletrap's wide array of disables and nukes allows him to cause chaos among the enemy team and break up their formation, giving his team a powerful advantage in any fight. Battery Assault allows Clockwerk to inflict repeated damage ticks and mini-stuns on nearby enemies, allowing him to constantly hinder any enemies he manages to get close to and single out. He can also disrupt enemy movement and pen in foes with his Power Cogs, which induces an electric shock to foes outside, stunning them while damaging them and burning their mana, and can render enemies caught inside helpless. His damage nuke, Rocket Flare, gives him global nuking power that also provides scouting vision for him and his team. Finally, his ultimate, Hookshot, allows Rattletrap to instantaneously latch onto and stun a foe from long range, making him a very strong ganker. Few can escape Clockwerk once he has his sights locked in, and his machinations make him a powerful ally to have on any team.
Abilities
[
edit
]
Talents
[
edit
]
Recent Changes
[
edit
]
Recommended items
[
edit
]
Starting items:
Tango gives Clockwerk enough basic lane survivability through health regeneration. Depending on how much harass is expected in the offlane, more than one Tango may be advised.
Healing Salve also restores health to Clockwerk.
Iron Branch gives Clockwerk cheap attributes, increasing health, armor, attack speed, and mana.
Early game:
Boots of Speed early on give Clockwerk enough movement speed to evade ganks by the enemy supports. They also allow him to chase with Battery Assault and get early kills against squishy supports if he can single them out.
Urn of Shadows is a very useful utility item on a roaming Clockwerk in place of a Bracer. The strength gives him more HP and base damage, while the mana regen helps with his casting. The active can be used to deal more damage to an enemy during a gank, or heal yourself or allies afterward.
Mid game:
Late game:
Aghanim's Scepter provides Clockwerk with the Overclocking ability which refreshes the cooldown of all of his spells in exchange of getting stunned after the buff expires.
Shiva's Guard increases the size of Clockwerk's mana pool, allowing him to cast spells more often, and greatly increases his survivability against physical damage. The active can be cast prior to using Hookshot, instantly applying the nuke damage and slow to the entire enemy team upon reaching your destination. the attack speed slow combined with battery assault makes it more difficult for high attack speed heroes to take out cogs and escape

Situational items:
Gameplay
[
edit
]
| | |
| --- | --- |
| Roles: | Initiator Disabler Durable Nuker |
| Complexity: | ★★☆ |
| Playstyle: | Powered by revenge and ingenuity, Rattletrap armored himself into an instrument of war. Rocket Flares flew from his shoulder-mounted launcher, striking and revealing distant territories. A sudden Hookshot flies, latching and pulling the mechanized Keen to his unsuspecting foe. Before the stunned target could react, Rattletrap erects a grid of Power Cogs, trapping his foe within while repelling help from without. He triggers the suit's Battery Assault, and watches the target panic as short bursts of shrapnel whittle down its remaining health... |
History
[
edit
]
Equipment
[
edit
]
Gallery
[
edit
]