Clockwerk
Clockwerk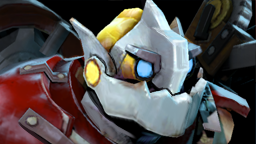 Rattletrap, the Clockwerk, is a melee strength hero known as being one of the most well-rounded initiator-gankers in the game. Rattletrap's wide array of disables and nukes allows him to cause chaos among the enemy team and break up their formation, giving his team a powerful advantage in any fight. Battery Assault allows Clockwerk to inflict repeated damage ticks and mini-stuns on nearby enemies, allowing him to constantly hinder any enemies he manages to get close to and single out. He can also disrupt enemy movement and pen in foes with his Power Cogs, which induces an electric shock to foes outside, stunning them while damaging them and burning their mana, and can render enemies caught inside helpless. His damage nuke, Rocket Flare, gives him global nuking power that also provides scouting vision for him and his team. Finally, his ultimate, Hookshot, allows Rattletrap to instantaneously latch onto and stun a foe from long range, making him a very strong ganker. Few can escape Clockwerk once he has his sights locked in, and his machinations make him a powerful ally to have on any team.

Rattletrap, the Clockwerk
Rattletrap descends from the same far-flung kindred as Sniper and Tinker, and like many of the Keen Folk, has offset his diminutive stature through the application of gadgetry and wit. The son of the son of a clockmaker, Rattletrap was many years apprenticed to that trade before war rode down from the mountains and swept the plains villages free of such innocent vocations. "Your new trade is battle," his dying father told him as the village of their ancestors lay in charred and smoking ruins.

It is a poor tradesman who blames his tools, and Rattletrap was never one to make excuses. After burying his father among the ruins of their village, he set about to transform himself into the greatest tool of warfare that any world had ever seen. He vowed to never again be caught unprepared, instead using his talents to assemble a suit of powered Clockwerk armor to make the knights of other lands look like tin cans by comparison. Now Rattletrap is alive with devices—a small but deadly warrior whose skills at ambush and destruction have risen to near-automated levels of efficiency. An artisan of death, his mechanizations make short work of the unwary, heralding a new dawn in this age of warfare. What time is it? It's Clockwerk time!
Abilities
[
edit
]


100
Some of Rattletrap's contraptions don't quite work correctly, so detonating them proves useful as an offensive maneuver.
Notes:

Interrupts Clockwerk's channeling spells upon cast.
Remains active even if Clockwerk is disabled.
Discharges a total of 16 ( 24) shrapnels, starting immediately upon cast.
Can deal a total of 320/720/1120/1520 damage without any talents (before reductions).

Can deal a total of 704/1104/1504/1904 damage when the damage increasing talent is chosen.
Can deal a total of 480/1080/1680/2280 damage when the interval reducing talent is chosen.
Can deal a total of 1056/1656/2256/2856 damage when both talents are chosen.
Each shrapnel first applies the damage, then the debuff.
The buff from multiple casts of Battery Assault does not stack but gets refreshed instead.
Choosing the damage increasing talent immediately updates the currently running instance of Battery Assault.
Choosing the interval reducing talent does not affect the currently running instance of Battery Assault.

Does not update the interval upon refreshing the current instance either. The current instance must expire first.

Forms a barrier of energized cogs around Clockwerk, trapping any units that are near. Enemies outside the trap that touch a cog are knocked back, losing health and mana. Once a cog has delivered a shock, it will power down. Cogs can be destroyed by enemy attacks, but Clockwerk can destroy them with just one.
Shock Damage
:
50/125/200/275
Shock Mana Loss
:
50/80/110/140
Shock Knockback Distance
:
300
Shock Knock Back Duration
:
1

15

80
Burns mana and attempts to damage if debuff was placed before spell immunity and when not dispelled.
One of Clockwerk's inventions of which he is most proud is the power cog - though it is sometimes despised by his allies.
Notes:

The cogs are always placed in the same formation.

8 cogs are placed so that they form a circle around Clockwerk. The center of the circle is empty.
Each cog is spawned 215 range away from Clockwerk, effectively blocking a 255 radius circle due to their collision size.
All cogs are placed with a 164.5 range distance from each other. Together with their collision size, the gap between the cogs is 4.5.
This means that any unit trapped within the center of the circle cannot move out unless it has unobstructed movement.
A cog shocks the first enemy unit which comes within 185 range of it from the outside. A cog can only shock a unit once.
The cogs only shock units that have mana (e.g. ranged creeps). Units without a mana pool are not shocked (e.g. Roshan).
The shock is a 300 distance knock back at a speed of 300, so it lasts exactly 1 second.
Knocks units back into the direction they approach the cog from.
During the knock back, the unit is fully disabled. The damage and mana loss are applied at the end of the knock back.
Although the cogs deliver the shocks, the effects (damage, mana loss, knockback) are sourced to the caster, not the cog.
Applies the damage first, and then the mana loss.
At the end of the knock back, trees within a 100 radius of the unit are destroyed.
Despite having 100 health, attacking the cogs deals 0 damage. The cogs' health bar does not visually decrease when attacking them either.
Units not controlled by any player do not try to path around the cogs, but simply walk against them as if they are not there.

This effectively causes them to get stuck until they change directions (e.g. when aggro-ing them).
The cogs can also be attacked and destroyed/denied by allies, however, taking the same amount of attacks as enemies.

Fires a global range flare that explodes over a given area, damaging enemies and providing vision for 6 seconds.
Notes:

The Rocket Flare travels at a speed of 2250.
Provides flying vision in a 600 radius for 1 second while traveling and for 6 seconds at the targeted area after reaching it.

When choosing the talent, also provides 600 radius True Sight at the targeted area for 10 seconds.
The True Sight is provided by an aura which affects enemies. Its debuff lingers for 0.5 seconds.
Cannot reveal Eyes In The Forest.
The rocket can be seen on the minimap. It appears green to allies and red to enemies (enemies require vision over it to see it).
Choosing the damage upgrading talent immediately upgrades all of Clockwerk's currently flying rockets.
Choosing the True Sight granting talent immediately grants it to Clockwerk's currently flying rockets.

However, it does not add True Sight to rockets which already reached their targeted point and exploded.

Fires a grappling device rapidly at the target location. If the hook hits a unit, Clockwerk launches himself into the target, stunning and dealing damage. Any enemies Clockwerk collides with along the way are damaged and stunned.
Cast Range
:
2000/2500/3000
Max Travel Distance
:
2000/2500/3000
Stun & Damage Radius
:
175
Stun Duration
:
1.5/1.75/2

150

Grants new ability: Overclocking. Resets Clockwerk's ability cooldowns and grants him bonus movement and attack speed for a duration. Clockwerk becomes stunned after the duration runs out.
A somewhat unwieldy device, the Hookshot sends the otherwise clunky Clockwerk armor flying through the air.
Notes:

The hook travels at a speed of 4000/5000/6000, taking a maximum of 0.5 seconds to reach max length.
When the hook latches on a unit, Clockwerk gets pulled towards it at the same speed as the hook itself.
The pull gets canceled when Clockwerk gets affected by other sources of forced movement.
Clockwerk gets pulled towards the latched unit's current location, and not towards the original location where the hook latched on it.

This means when the target moves or gets moved, Clockwerk's trajectory adapts immediately.
The pulling lasts a maximum of 0.5 seconds, so if the target moves away, Clockwerk may not fully reach it.
The area damage and stun around Clockwerk always happens, regardless of whether the hook latched on an ally or enemy.
When latching on an ally, the ally is not disabled and can act freely. It is not interrupted either.
When latching on an enemy, it gets stunned for 1.5/1.75/2 seconds, or until Clockwerk reaches it.

This means if Clockwerk does not reach it, it is stunned for the full duration.
This can happen when either the pull gets canceled, or when the target gets moved too far away during the pull.
The latched enemy is also hit by the area damage/stun.

This means the latched target is stunned up to 0.5 seconds longer than secondary targets, due to the initial latch stun.
Hookshot first applies the debuff, then the damage.

Resets Clockwerk's ability cooldowns and grants him bonus movement and attack speed for a duration. Clockwerk becomes stunned after the duration runs out.
Movement Speed Bonus
:
40%

60

150
Rattletrap understands the limitations of his armor. Just as he understands the risks of pushing past them in times of need.
Notes:

Interrupts Clockwerk's channeling spells upon cast.
Only resets ability cooldowns. Item cooldowns are not reset.
The stun at the end of the duration cannot be avoided. It is applied even when invulnerable or hidden.
Recasting Overclocking refreshes the debuff's duration, but does not reset cooldowns again.
Talents
[
edit
]
Notes:
The magic resistance talent stacks multiplicatively with other sources of magic resistance.
The magic resistance talent increases Clockwerk's magic resistance to 55%.
Recent Changes
[
edit
]
Reduced movement speed from 315 to 310.
Reduced Rocket Flare vision duration from 8 to 6.
Talents:
Level 15 right talent: +1 Power Cogs attacks to destroy increased to +2.
Recommended items
[
edit
]
Starting items:
Tango gives Clockwerk enough basic lane survivability through health regeneration. Depending on how much harass is expected in the offlane, more than one Tango may be advised.
Healing Salve also restores health to Clockwerk.
Iron Branch gives Clockwerk cheap attributes, increasing health, armor, attack speed, and mana.
Early game:
Boots of Speed early on give Clockwerk enough movement speed to evade ganks by the enemy supports. They also allow him to chase with Battery Assault and get early kills against squishy supports if he can single them out.
Urn of Shadows is a very useful utility item on a roaming Clockwerk in place of a Bracer. The strength gives him more HP and base damage, while the mana regen helps with his casting. The active can be used to deal more damage to an enemy during a gank, or heal yourself or allies afterward.
Mid game:
Late game:
Aghanim's Scepter provides Clockwerk with the Overclocking ability which refreshes the cooldown of all of his spells in exchange of getting stunned after the buff expires.
Shiva's Guard increases the size of Clockwerk's mana pool, allowing him to cast spells more often, and greatly increases his survivability against physical damage. The active can be cast prior to using Hookshot, instantly applying the nuke damage and slow to the entire enemy team upon reaching your destination. the attack speed slow combined with battery assault makes it more difficult for high attack speed heroes to take out cogs and escape

Situational items:
Gameplay
[
edit
]
| | |
| --- | --- |
| Roles: | Initiator Disabler Durable Nuker |
| Complexity: | ★★☆ |
| Playstyle: | Powered by revenge and ingenuity, Rattletrap armored himself into an instrument of war. Rocket Flares flew from his shoulder-mounted launcher, striking and revealing distant territories. A sudden Hookshot flies, latching and pulling the mechanized Keen to his unsuspecting foe. Before the stunned target could react, Rattletrap erects a grid of Power Cogs, trapping his foe within while repelling help from without. He triggers the suit's Battery Assault, and watches the target panic as short bursts of shrapnel whittle down its remaining health... |
History
[
edit
]
Equipment
[
edit
]
Gallery
[
edit
]