Bat Rider

Bat Rider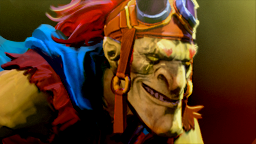 Kahmeka, the Bat Rider was a hero that was never officially released. It was only available in the DotA 6.00 beta patch.
Kahmeka, the Bat Rider
Lore:
Nimble hero, with the ability to traverse the map quickly. Has Ignite, Fly, Wounding Spear, and FUNGWARBI!
Abilities
[
edit
]

Drenches a target in volatile chemicals, causing it to burst into flames. The target is under immense pain, causing it to take damage and move slower. Lasts 7.5 seconds.
Cast Animation
:
0.45
+
0.43
Damage per Second
:
5/15/25/35
Move Speed Slow
:
10%/15%/20%/25%

12
Slow persists and attempts to damage if debuff was placed before spell immunity and when not dispelled.
Blocked upon impact, for any target.
Modifiers
Notes:

Ignite travels at a speed of 1000.
The debuff from Ignite does not stack with itself. However, a new instance adds its duration to the existing debuff, instead of refreshing it.

The Bat Rider files high into the air, allowing him to survey the surrounding terrain and fly over obstacles. When he comes down he will deal damage in an area.
Notes:

Changes Bat Rider's unit type from ground type into air type.

In this state, Bat Rider can't attack ground unit.
In this state, it also gives Bat Rider a huge vision range.
The damage is applied upon landing, not upon flying.
Notes:

Does not works against non-hero units.
Notes:

FUNGWARGBI! converts damage into healing after reductions.