Alchemist
Alchemist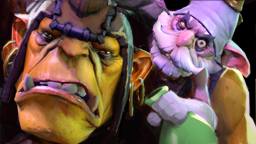 Razzil Darkbrew, the Alchemist, is a melee strength hero whose alchemical prowess makes him a strange but versatile fighter. He is an unusual carry based upon transmuting killed creeps into large amounts of bonus gold, with both an early game and late game presence due to the enormous health regeneration from his ultimate and the first strike nature of his other spells. His low but balanced attributes and the sure promise of gold for items means he can be one of the most disparately built heroes in the game.
Unstable Concoction is his main contribution early on, dealing good damage and a lengthy stun. Acid Spray allows him to rapidly clear waves of creeps for his Greevil's Greed to contribute massive amounts of extra income. A well-equipped Alchemist can then use Chemical Rage to its fullest effect, as the incredible regeneration and base attack time reduction make it one of the best steroid abilities in the game.
Abilities
[
edit
]
Talents
[
edit
]
Recent Changes
[
edit
]
Recommended items
[
edit
]
Starting items:
Early game:
Mid game:
Late game:
Situational items:
Mjollnir increases Alchemist's attack speed greatly, and also gives a useful Static Charge to protect Alchemist or his teammates. Its lightning attack will also trigger often under Chemical Rage.
Battle Fury allows Alchemist to farm anything in no time.
Blade Mail forces enemies to think twice about fighting back against Alchemist.
Abyssal Blade goes well with Alchemist's high attack speed, and helps greatly in securing an enemy. It also gives bonus attack damage and greater survivability providing bonus HP and blocking damage from incoming attacks.
Heaven's Halberd gives some strength, evasion, status resistance, and also gives the ability to disarm a threatening enemy.
Heart of Tarrasque gives Alchemist a massive amount of health. Combined with the health regeneration from Chemical Rage, Alchemist is extremely hard to take down.
Moon Shard grants increased attack speed to Alchemist without using any inventory slots. He can also use Moon Shard on an ally to give them the bonus attack speed instead.
Aghanim's Scepter allows Alchemist to give the item to an ally, granting them appropriate upgrades.
Gameplay
[
edit
]
| | |
| --- | --- |
| Roles: | Carry Support Durable Disabler Initiator Nuker |
| Complexity: | ★☆☆ |
| Playstyle: | Having broken out of prison with his ogre accomplice, Razzil Darkbrew embarks on the search for new materials to use in his transmutations. Learned in alchemy, Razzil is able to extract extra gold from creeps, and create fields of toxic sludge with Acid Spray. The Alchemist brews, atop the shoulders of his companion, an increasingly Unstable Concoction that is ideally thrown before it explodes. In a pinch, Razzil slips his partner an unknown potion, inducing a Chemical Rage in the ogre's body. Symptoms include unnatural attack speed, rapid health regeneration, and a pleasant purple hue. |
History
[
edit
]
Equipment
[
edit
]
At one point during beta, Alchemist's bio consisted entirely of the following sentence: "Alchemist is named Al and is a chemist."
Alchemist's third ability name remained unchanged from its DotA counterpart until after the Diretide event, when it was changed from "Goblin's Greed" into "Greevil's Greed."
The Ogre's portion of the Caustic Steel cosmetic set may be a reference to Master Blaster from Mad Max: Beyond The Thunderdome, while the Alchemist's armor and hair are most likely a reference to Edward Elric, one of the two main protagonists of Fullmetal Alchemist.
Acid Spray's Link▶️ sound effect has the same reprocessed sound of Link▶️ Oil Platform building from game Warcraft 2: Tides of Darkness, created by Blizzard.
One of Alchemist's last hit lines Link▶️ "Only ninety-eight percent pure?" is a direct reference to AMC's TV series Breaking Bad.[1]
Another of his last hit lines Link▶️ "Greed is good." is a reference to Gordon Gekko's speech in the 1987 film, Wall Street.[2] as well as the actual cheat code from Warcraft III which gives the player gold on single player campaign.
Alchemist's line for picking up a Haste Rune Link▶️ "Run, buddy, run!" may be a reference to Forrest Gump, since sometime in the movie there is a line "Run, Forrest, Run!"[3]
Alchemist's leveling line Link▶️ " Better living through alchemy!" is a reference to the phrase "Better Living Through Chemistry", a popular variant of a DuPont advertising slogan which later became a common phrase.
Gallery
[
edit
]
References
[
edit
]